Conference On 'Corporate Governance Implications For Companies With Concentrated Ownership'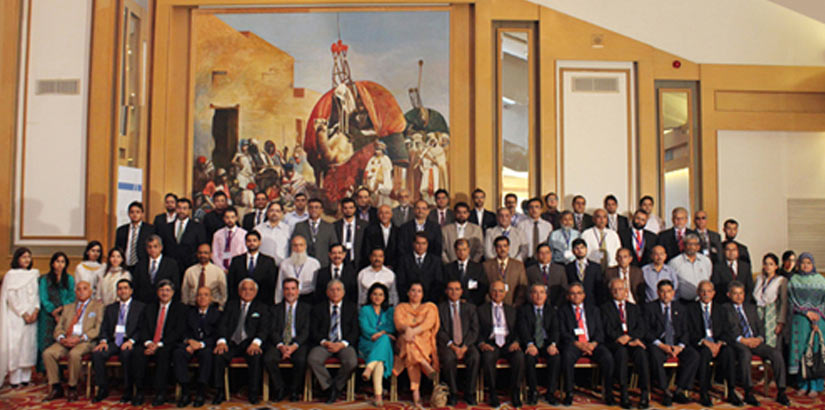 Pakistan Institute of Corporate Governance (PICG) in collaboration with the Association of Chartered Certified Accountants (ACCA) Pakistan and Center for International Private Enterprise (CIPE) Pakistan held a Conference on "Corporate Governance implications for companies with Concentrated Ownership" on Wednesday, September 17, 2013 at Marriott Hotel, Karachi.
The Conference was sponsored by Pakistan Petroleum Limited and co-sponsored by Tri-Pack Films Limited, Allied Bank Limited and Engro Corporation.
It may be mentioned here that concentrated ownership of listed companies is a reality in most Asian economies. This ownership structure presents both opportunities as well as risks. The objective of this conference was to discuss whether the ownership structure of companies should influence the board of directors in carrying out its duties and responsibilities, and its impact on the management and long-term performance of these companies.
Mr. Fuad A. Hashimi, President & CEO PICG opened the Conference. Mr. Andrew C. Wilson, Regional Director CIPE for Eastern Europe & Eurasia delivered the keynote address.
This was followed by a Panel Discussion titled "The Board of Directors has the right to appoint the Chief Executive Officer". It was moderated by Mr. Arif Masud Mirza, Head of ACCA Pakistan. Panelists included Mr. M.J. Jaffar, Off Counsel Orr Dignam & Co.; Mr. Adnan Afridi, Advisor Silk Bank Limited and former Managing Director Karachi Stock Exchange; Mr. Kamran Y. Mirza, CEO Pakistan Business Council and Mr. Zaffar A. Khan who serves on diverse boards including MNCs Shell Pakistan and Unilever Pakistan. It may be mentioned here that the discussion was highly interactive as the participants actively contributed with their opinions on various issues.
Panelist Mr. Jaffar remarked that the directors substantially invested their trust and power in the CEO to manage and strategically direct the company, while adding that it hence made sense to appoint the CEO transparently which could be best achieved by appointing a 3- member committee for the CEO's appointment. He said that the law was clear in this regard and stated that it was the board's primary duty to appoint the CEO. Panelists on the occasion also delved into CEO appointments made in Public Sector Enterprises (PSEs). They were of the view that previously such appointments were made by the prime minister or some other government officials, while adding that the process now has become much clearer since a commission has been established to make all such appointments. Panelists were also of the view that continuity of all ongoing company operations must be ensured while succession is taking place.
On the occasion, another panelist Mr. Zafar A. Khan commented that in Pakistan there was majority shareholding across most companies while adding that it would hence make sense if directors made best use of whatever limited powers were available to them. Panelists then greatly discussed the nomination's committee's role; they were of the view that the CEO's dismissal was carried out by the majority of the directors on the board or else the matter went ahead in the Annual General Meeting (AGM). Mr. Jaffer on this occasion commented that the nature of the shareholders (along with the company's shareholding pattern) also greatly altered the company's decision making process. He also said that if the board is compromised, it weakens the company's infrastructure, to eventually make it fall apart, while adding that the company could rely on non-executive directors to drive a change in the behavior of the board members.
Following the panel discussion, distinguished conference speakers took charge to highlight the role of corporate governance in striving to create a balance between ownership control, shareholder protection and investor interest. The speakers included Mr. Faheem Sardar, CEO Askari Securities; Mr. Abrar Hasan, CEO National Foods Limited; Mr. Aftab Ahmed Chaudry, MD Lahore Stock Exchange; Mr. Badaruddin F. Vellani, Senior Partner Vellani & Vellani; Mr. Sajid Zahid, Joint Senior Partner Orr Dignam & Co. and Ms. Rana Mustansir of PICG.
Mr. Hashimi read out the Chief Guest SECP Chairman Mr. Tahir Mahmood's address in which Mr. Mahmood stated that he hoped the conference would significantly impact the state of corporate governance in Pakistan. He said that good governance was a mindset that takes accountability into consideration, while adding that regulators were responsible for inculcating an atmosphere of good governance. He was also of the view that corporate governance provided solutions to major challenges faced by companies with concentrated shareholding patterns. His message put great stress on the importance of succession planning, optimal utilization of company assets, resolution of complex family issues, and protection of minority shareholder rights.
This chief guest's address was then followed by Mr. Sajid Zahid's talk on "The Value of Independent Directors". Mr. Zahid said that independent directors were now a necessity for a board to function efficiently. He explained to the participants that the concept originated in 2002 as a recommendation, while stressing that the Board chairman and the Audit Committee's Chairman must be an independent director. Mr. Zahid used examples of renowned cases such as the Satyam scam (in which the independent directors resigned in protest which led to exposing the $1billlion scam) to stress the importance of independent directors. He was of the view that in Pakistan independent directors were reviewing the company's affairs in a limited manner, while urging them to go into as much detail as possible. He further elaborated that independent directors do not necessarily trigger value addition to the company, but were there to ensure accountability and that board policies were correctly and ethically followed.
Mr. Zahid also raised key issues regarding independent directors; these included remuneration, integrity and induction. He said that on average, an independent director in Pakistan could make up to $30,000 from just ten 10 board and committee meetings; he however questioned this practice by asking participants whether this sort of remuneration would pose threat to the independence of directors, or would such remunerations compromise the independent director's decision making to the sponsoring shareholders.
Following rigorous debate by the participants on these issues, he concluded by saying that such conflicts can only be avoided by ensuring that there are no interests involved in transactions. He also added that independent directors will strive to primarily protect their own reputation at all times, and in the process will end up safeguarding the company itself.
Mr. Sajid Zahid's insightful session was followed by PICG's Research Associate Ms. Rana Mustansir's address on "How strategy suffers when corporate governance takes a backseat?" Ms. Mustansir delivered her address in an innovative manner by narrating a story on a fictional company, in which the protagonist was the chairman while the antagonists were the board of directors. Her fictional company was thriving on borrowed capital, had overloaded operations while working without a clear strategic framework, and overly manufactured a product for which there was little demand – symptoms that are common to struggling companies in Pakistan. Moreover, this company's board had no faith in CEO's ability to drive strategy since the chairman would frequently override board decisions.
Ms. Mustansir effectively utilized these symptoms to explain participants that efficient capital market models created values, while adding that the net benefits of diversifications may be lower for manufacturing firms. She also took the opportunity to stress the importance of leveraging of resources and knowledge integration, non-periodic resource allocation, environmental adaption and the contribution of these key elements to an organization's enhanced performance. She was of the view that the board's role in today's diverse business atmosphere transcended far ahead than mere 'monitoring'; she added that family owned companies gave controlling family members superior monitoring rights, therefore it would make sense if these families adhered to boards that challenged them more often. She concluded her address by stating that corporate governance was the key to strategy formation, while adding that focusing on strategy should be the board's primary objective.
Ms. Rana Mustansir's address was followed by CEO National Foods Ltd. Mr. Abrar Hasan's address, who presented his own company as a case study for "Succession Planning in Family-owned Businesses". Mr. Hasan started off by informing participants that National Foods was a listed company with 58% ownership shared between two families. He told the participants that family owned companies formed the largest majority of companies in the entire world. To highlight the importance of family owned firms, he quoted a research carried out by the London Stock Exchange according to which listed family firms outperformed listed non-family owned firms by 40%. He explained this phenomenon by telling participants that the decision making in family owned companies was relatively more inclined towards sustainability.
Mr. Hasan then however explained to the participants some key issues that were prevalent in family owned firms. He said that family owned firms operated with a more centralized system, striving to keep control within the family, which resulted in succession revolving around unskilled family members. He further added that finance was also a problem since controlling family members were more inclined towards avoiding the risk of getting borrowed capital; their focus hence remained on making most of what is available to them rather than borrowing. He therefore said that such 'conservative approaches' will not let the company go past three generations.
He offered a solution to these problems by stating that if the company meant more than just a means of 'enhancing lifestyles' to the owners, then corporate governance was the only thing that could make such family-owned firms perform beyond their potential. He said corporate governance increases access to finance, improves operations and valuations, lowers costs of capital, builds reputation, manages risk and allows hiring of better human resource. He also added that corporate governance today went far beyond shareholder rights as it now delved into more diverse issues such as Corporate Social Responsibility (CSR).
He said that across five decades, his family's primary focus was to ensure sustainability which was perhaps the core reason for National Foods' survival across such a lengthy period of time, which helped it grow from 18 employees in 1970 to 2500 employees currently. He said National Foods aspired to become a significant game changer in the food sector, as they aimed to become a Rs50billion entity by the end of 2020. He concluded by saying that for this purpose they continued giving utmost weightage to transparent succession planning, while bearing in mind that the succession process itself should not halt or decelerate ongoing business ventures and operations of the company.
Deputy Managing Director Karachi Stock Exchange, Mr. Haroon Askari, then briefly spoke on "Ownership Concentration and Long-term Firm Performance" which was well received by the participants. The conference concluded with Mr. Badaruddin F. Vellani delivering a talk on "Loyalty, Disclosure and Care".
To Download full PDF file Click Here
2023-9-27
2023-9-27
Asia/Karachi
Conference On 'Corporate Governance Implications For Companies With Concentrated Ownership'
Pakistan Institute of Corporate Governance (PICG) in collaboration with the Association of Chartered Certified Accountants (ACCA) Pakistan and Center for International Private Enterprise (CIPE) Pakistan held a Conference on "Corporate Governance implications for companies with Concentrated Ownership" on Wednesday, September 17, 2013 at Marriott Hotel, Karachi. The Conference was sponsored by Pakistan Petroleum Limited and
Marriott Hotel, Karachi
save event to calendar