Conference On 'GSP Plus: Opportunities Through Good Governance'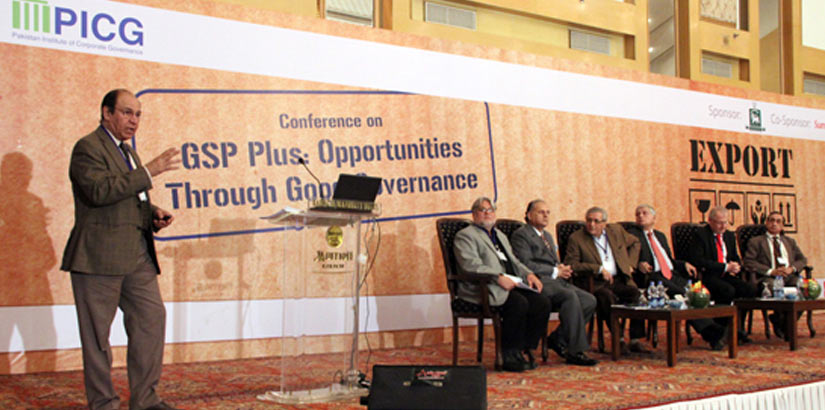 The event started off with Mr. Fuad Hashimi (President and CEO – PICG) delivering the keynote address. He welcomed the participants and guests to the conference, and on the occasion explained to them the significance, importance and place of Corporate Governance in their respective organizations.
He was soon followed by renowned textile industry veteran Mr. M Yasin Siddik (Chairman – All Pakistan Textile Mills Association (APTMA)). Mr. Siddik on the occasion started off by explaining to the participants the importance of the GSP Plus status for Pakistani exporters; he stated that Pakistan's inspiration in this regard was Bangladesh which had gained the GSP Plus status years before Pakistan. The APTMA Chairman remarked that prior to this status, Pakistan was not provided a level playing field in the global arena (since most of its goods were subjected to 6-18% duty) which took Pakistani exporters out of the competition. Mr. Siddik said the global textile trade stood at a humungous $725 billion, of which only $13 billion of global textile trade belonged to Pakistan. He said that the GSP plus status was 'tricky business' which required Pakistan's private sector to illustrate high levels of compliance and good governance; he added that if things moved in the right direction Pakistan's textile sector could clinch almost 2.8% of the global textile trade (almost doubling the textile sector's export revenue to increase it to $26 billion within the next three years). Mr. Siddik pointed out that the biggest issue Pakistan faced was the energy crisis. He said that the cost of energy was going up every three months, while adding that an average textile factory like his own required 8 MegaWatts (MW) of electricity to operate, and that installing a 1 MW electricity plant required $2 million to be built. He remarked that the textile sector would not be able to undertake such humongous costs, hence the government and private sector were required to work together as a coalition to rid themselves of the energy crisis. He further added that in the wake of depleting gas sources, the textile sector should look for alternate energy sources such as coal, LNG (Liquified Natural Gas), Wind and Hydal energy. Mr. Siddik concluded by telling the participants that following the GSP Plus status, Pakistan was now being considered a serious competitor in international markets.
The APTMA Chairman was soon followed by Mr. Tariq Ikram (Former minister of State) who further built on Mr. Siddik's stance. He explained to the participants reasons for Pakistan previously not being eligible for the GSP Plus status; the reasons according to him included Pakistani exports being more than 1.5% of the European imports, and country's higher per capita income which prevented it from qualifying as a Least Developed Country (LDC). He however added that some European countries like Germany vehemently advocated Pakistan's case, which convinced the European Union to grant the GSP Plus status to Pakistan.
Mr. Ikram stressed that the agreements signed between the EU and Pakistan greatly stressed protecting universal human rights including preventive measures for racial/sectarian/political genocide, gender or racial discrimination in organizations, child labour and environmental degradation, amongst various others. He stressed that the GSP Plus status hence in reality was aimed at enhancing the socio-economic conditions of LDCs. He stated that the West greatly possessed most of the world's buying power, while adding that the GSP Plus status enabled LDCs to make most of West's colossal ability to purchase. He however remarked that in return it required recipient countries to put themselves up for audits and all forms of social and economic compliances.
While further commenting on the textile business in Pakistan, he said that the country was was currently short of 3 billion bales with respect to its production capacity of 16 billion bales which forced Pakistan to import. He also urged that the mindset of entrepreneurs related to the textile industry needed a revamp and they were required to focus on producing more value added products; he explained to the participants that raw cotton bales fetched prices between $2.5 and $3 per kg, whereas more value added products like towels and garments fetched approximate prices of $8 and $30 per kg respectively – making it clear to the participants that there were huge sums of money up for grabs for the textile sector which it missed because of 'the closed mindset'. Mr. Ikram also criticized current efforts that were being made by the government to boost exports, as he stated that Pakistan had made much better export policies in the past.
Mr. Ikram also lamented Pakistan's lack of depth in its exports basket, while stressing the need for Pakistan to diversify its exports and look towards non-traditional exports in sectors such as information technology, fisheries, jewellery, chemical products, meat products, furniture amongst several others. He said that as of now, there was a dire need to formulate a 'National Export Strategy', which should take into consideration geographic diversification for exports focusing on regions such as Africa, South America and Australia. He concluded by saying that exports was the only sustainable way forward if Pakistan aimed to exponentially boost its foreign reserves.
Following Mr. Tariq Ikram's highly informative address, Mr. Haroon Askari (Deputy Managing Director of the KSE) took the stage on behalf of the Karachi Stock Exchange (KSE); his presentation was titled "What Investors Want". He said that in 2013 Pakistan's total exports generated a revenue of $25 billion of which 53% was contributed by the textile sector. He informed the participants that since China's textile sector was reduced by $30 billion to $270 billion due to rising production costs, it was hence forced to directly invest into Pakistan's textile sector. He said that China's appetite for Pakistani cotton yarn was expected to increase exponentially, while adding that this trend coupled with the GSP Plus status would tremendously help the textile sector. He however urged the private sector to avoid evasion of taxes to become truly transparent and compliant, if they were to optimally utilize the benefits of the GSP Plus status. Mr. Askari also pointed out some other discouraging factors harming the economic growth which included low tax/GDP ratio, terrorism, lack of subsidies in energy sector, power shortage, increase in inward remittances, poor governance and corruption.
Mr. Askari was then followed by the CEO of Tameer Microfinance Bank Mr. Nadeem Hussain who gave an insight to the participants about the financial capital available to Pakistan SME's sector. He said that the SME sector was the driving force of economic and social stability in Pakistan. He however questioned the sustainability of the financing framework, while commenting that regional distribution of capital within Pakistan was adversely skewed. He said that no province outside Punjab and Sindh used more than 9% of their own deposit base for lending within their domain, while adding that the SME portfolio at risk dangerously jumped from 16% and 35% between 2008 and 2012. He also said that SME credits risk is understandably amplified due to shortage of energy, dwindling cash flows, law and order situation, collateral issues, shortcomings in governance and risk management, lack of talent pool and human resources, customer segmentations, delivery channels and technology. He stressed upon the need to deepen the national economic base, while adding that appropriate government intervention could stimulate sustainable lending.
Mr Askari was soon followed Mr. Asif Iqbal (Joint Director, Securities Market Division of the Security Exchange Commission of Pakistan) who stressed the need for Corporate Governance in the private sector, and urged the protection of shareholders from expropriation so that their rights were safeguarded. Mr. Iqbal's highly informative session was followed by a Panel Discussion headed by Mr. Tariq Ikram which concluded the conference. The event was well received by the participants.
Download Full PDF File by Clicking Here
2023-12-3
2023-12-3
Asia/Karachi
Conference On 'GSP Plus: Opportunities Through Good Governance'
The event started off with Mr. Fuad Hashimi (President and CEO – PICG) delivering the keynote address. He welcomed the participants and guests to the conference, and on the occasion explained to them the significance, importance and place of Corporate Governance in their respective organizations. He was soon followed by renowned textile industry veteran Mr.
Karachi Stock Exchange
save event to calendar