Conference On 'Strategic Success In Today's Business'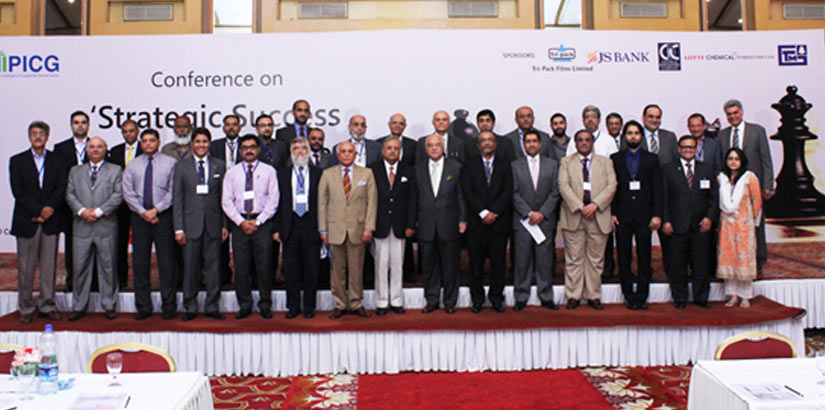 Pakistan Institute of Corporate Governance (PICG) held its Conference Strategic Success in Today's Business at the Karachi Marriott Hotel on Wednesday April 23, 2014.
The Conference was sponsored by Tripack Films Limited, JS Bank Limited, Central Depository Company (CDC) of Pakistan, Lotte Chemicals Pakistan and Gadoon Textile Mills Limited.
The Conference brought together industry leaders to discuss new ways of corporate strategizing that fit the volatility of today's business.
In his opening remarks, PICG CEO & President Mr. Fuad A. Hashimi said that strategy and risk are two sides of the same coin and it is impossible to manage one without managing the other.
In his keynote address Mr. Hussain Dawood Chairman Engro Corporation Limited emphasized that the market drives the success of an organization's strategy. Mr. Dawood also stressed that boards need continuity for strategizing and reform.
IBM Country Head Technology Services for Pakistan and Afghanistan, Mr. Humayun Akhlaque presented his case on the importance of embedding IT strategy within the overall business strategy.
This was followed by a panel discussion The board's objective is not to eliminate risk but to increase the chances of success. The panel discussion was moderated by Mr. Kamran Y. Mirza, CEO Pakistan Business Council. Panelists included Mr. Farooq Rahmatullah Director Faysal Bank Limited, Mr. Riyaz T. Chinoy CEO International Industries Limited and Mr. Humayun Akhlaque.
The discussion revolved around the board's main objective to agree on a strategic framework for the business and to vigorously review it within a robust governance framework. The board must monitor risks once they have been identified.
The last session of the Conference was an interesting Oxford style debate titled The board must guide strategy, not formulate it. The debate was chaired by Mr. Zaffar A. Khan who has vast experience on corporate boards including those of Engro Chemicals and Pakistan International Airlines. Mr. Adnan Afridi, CEO Tethyan Copper Company and Syed Naseem Ahmad Chairman Faysal Bank Limited were the speakers for and against the motion respectively. Both speakers made compelling arguments about management's responsibility to formulate the right strategy for a business, and the board's responsibility to set guidelines for the long term growth and expansion of the business.
Mr. Zaffar A. Khan summed up the debate saying that the most important responsibilities of the board are to appoint the CEO and to approve strategy.
The Conference successfully concluded on that note.
2023-9-27
2023-9-27
Asia/Karachi
Conference On 'Strategic Success In Today's Business'
Pakistan Institute of Corporate Governance (PICG) held its Conference Strategic Success in Today's Business at the Karachi Marriott Hotel on Wednesday April 23, 2014. The Conference was sponsored by Tripack Films Limited, JS Bank Limited, Central Depository Company (CDC) of Pakistan, Lotte Chemicals Pakistan and Gadoon Textile Mills Limited. The Conference brought together industry leaders
Karachi Marriott hotel
save event to calendar