Conference On 'Role Of The Independent Director'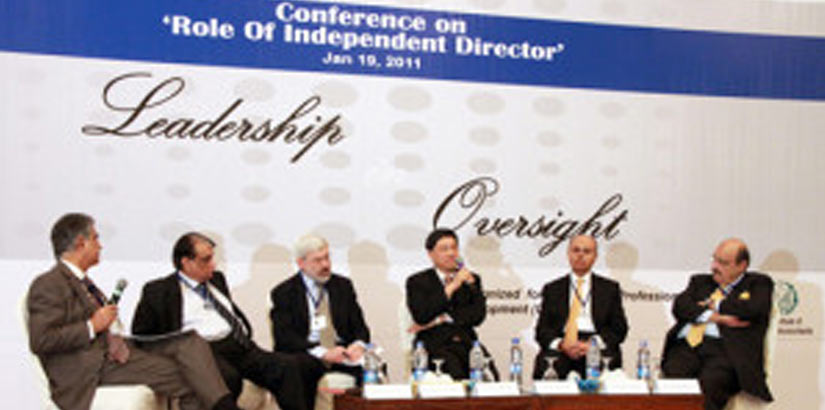 Karachi (January 19, 2011): Pakistan Institute of Corporate Governance (PICG) in collaboration with Pakistan Business Council (PBC) organized a conference on 'Role of the Independent Director' at a local hotel here on Wednesday. With a brief introduction by PICG President & CEO Fuad A. Hashimi, the conference was focused on the vital role of Independent Directors in enhancing the overall board's performance.
The Asia Pacific Head of CFA Institute, Lee Kha Loon and Ken Rushton, fellow of Chartered Institute of Secretaries and Administrators, presided over the conference while the other speakers were Shahid Aziz Siddiqui, Chairman of State Life Insurance Corporation, Towfiq Chinoy, Chairman of Pakistan Cables, Ehsan Malik, Chairman and CEO of Unilever Pakistan and Kamran Y. Mirza, Chief Executive of PBC.
Fuad A. Hashimi, in his opening remarks, welcomed the speakers and highlighted the changing trends in director compensation in Pakistan.
Lee Kha Loon shed light on the rights of minority shareholders in Asia and the several challenges they face due to their currently weak position in Asia, while Ken Rushton elaborated on the appointment and qualities of Independent, Non-Executive Directors.
Shahid Aziz Siddiqui stressed the importance of Independent Directors in the public sector, while Towfiq Chinoy shared his perspective from the point of view of family owned businesses. Ehsan Malik presented an alternative view from the perspective of subsidiaries of big companies, stressing that the number of independent, non-executive directors on a company board should remain flexible and focus should be maintained on performance.
The last part of the conference was an informative discussion forum moderated by Zaffar A. Khan with the discussion panel comprising all five speakers. Delegates were given an opportunity to share their comments and opinions, and ask the panel questions at the end of the discussion.
Kamran Y. Mirza concluded the conference adding that although headed in the right direction, Corporate Governance was evolving in Pakistan and that care should be taken to maintain flexibility and include the feedback and opinions of all stakeholders.
Further Information:
2023-9-27
2023-9-27
Asia/Karachi
Conference On 'Role Of The Independent Director'
Karachi (January 19, 2011): Pakistan Institute of Corporate Governance (PICG) in collaboration with Pakistan Business Council (PBC) organized a conference on 'Role of the Independent Director' at a local hotel here on Wednesday. With a brief introduction by PICG President & CEO Fuad A. Hashimi, the conference was focused on the vital role of Independent
Marriott Hotel, Karachi
save event to calendar