Conference On 'Sustainability Reporting, CSR And Governance'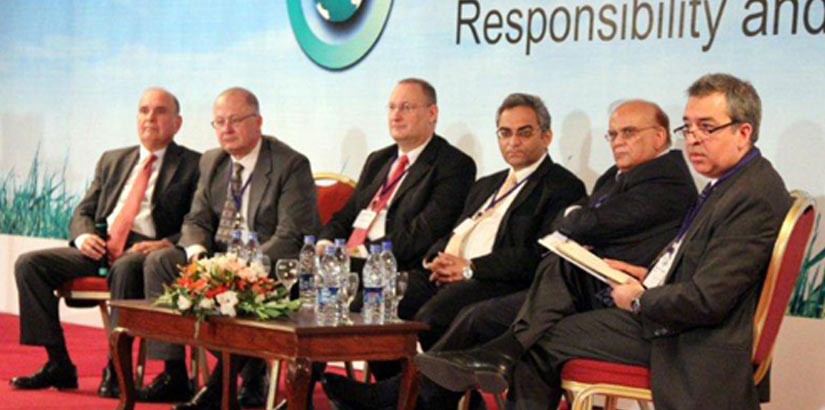 Pearl Continental Hotel, Karachi
On Tuesday January 22, 2013 Pakistan Institute of Corporate Governance (PICG) held its annual Conference on Sustainability Reporting, Corporate Social Responsibility and Governance at Pearl Continental Hotel, Karachi.
The Conference was sponsored by Lucky Cement and JS Bank and co-sponsored by Attock Refinery Limited and Lotte Pakistan PTA Limited.
Mr. Fuad A. Hashimi, President & CEO of PICG opened the Conference. He gave a snapshot of PICG's engagement with its corporate partners. Almost 600 people have been inducted in to PICG's director training program out of which 361 are certified directors . PICG is also working towards introducing gender diversity on boards up to a target level of 35 percent. He said governance and sustainability were interrelated and companies needed to leverage good governance to create long term sustainable value for their business.
The Conference recognized PICG certified directors through the Director Training Program.
In a video interview from Istanbul, Professor Mervyn E. King, long time activist and promoter of sustainability and governance, and author of the renowned King Report on, and Chairman Emeritus of the Global Reporting Initiative (GRI), said great capital markets move to where there is good governance and move away from where there is bad governance. There's $3 trillion out there for companies to create business opportunities provided they embrace Integrated Reporting principles. The essence of Integrated Reporting is simplicity and materiality. Dr. King stressed on putting materiality at the top in terms of determining content for GRI reports, and this means materiality across the value chain and not just within the boundaries of the business. According to Dr. King, the bigger question facing companies today is not whether to report but how to report. Professor King was of the opinion that the time was right for opening a Pakistani chapter of the International Integ rated Reporting Committee (IIRC) and PICG was well positioned to become that chapter.
The program started with a keynote address by Dr. Tilo Klinner, Consul General of the Federal Republic of Germany. Dr. Klinner is keen to promote infrastructure development and alternative energy exploration in Pakistan in collaboration with German firms. He said there was a time in Germany was a 'commissions based' society. But the creation of a well documented economy gave German corporations the impetus to be transparent and disclose full information. He said companies must look towards maximizing not only profits but also sustainability and fairness to all stakeholders. He gave the example of the BASF plant in Karachi which has developed an innovative solution to clean its industrial water to make it usable and supply it to the urban community around the plant. He also mentioned the company driven vocational training initiatives taken by the German Consulate in Karachi, to be extended to other big cities in Pakistan.
Syed Asad Ali Shah, Senior Partner Deloitte Pakistan, presented on the use of sustainability reporting frameworks including the GRI Framework and the IFAC Sustainability Framework 2.0. Mr. Shah told the audience that 19 companies out of the KSE 100 are reporting on sustainability and social responsibility. Out of the 19, 10 issue dedicated comprehensive Sustainability Reports using their GRI frameworks. Mr. Shah was of the opinion that good governance and sustainability should form an integral part of corporate strategy and PICG should take a leading role in encouraging its encoding. Integrated Reporting needs to be encouraged and rewarded. He said governance, strategy and sustainability are inseparable.
Mr. Nadeem Naqvi, Managing Director KSE, stressed the role of community in green development. He said we need actual penalties to enforce change, to engage business in the process of governance and sustainability, and to use electronic and social media to create public awareness around these issues. He said businesses needed to make a decision as to how far they are willing to go to sell their product. The SECP intends to introduce aligned mandatory reporting frameworks to ensure a step change for reporting by public listed companies on their environmental and social impact.
Mr. Guenter Zwickl, CEO Siemens Pakistan, told the Conference how sustainability forms an important part of Siemens' culture and 'is in the DNA of every Siemens employee'. He said the supply chain is a focal point of Siemens' sustainability plan since it is the supply chain that creates the biggest environmental footprint related to the effective management of raw materials, energy, water and waste. He said an important step towards Siemens' sustainability is that the company is curbing graft and corruption within the organization and moving towards a rigid compliance system.
Mr. Masoud Ali Naqvi, Senior Partner KPMG Pakistan, presented on the interplay between the various forces of globalization, accelerated consumption, resource scarcity and ecological decline which are compelling businesses to understand and assess the risks of their practices on the environment and to innovate and strategize in order to move towards sustainable growth. He blamed overzealous urbanization in Pakistan in creating social discrepancies. He said with global food prices set to rise 70 to 90 percent, food security and the growth of a global middle class will put increased pressure on the world's resources.
Mr. Parvez Ghias, CEO Indus Motor Company, stressed the need for collaborating on research to benefit public causes. He presented Toyota's Road Traffic Injury Research Project in collaboration with private and government in Karachi to quantify and assess the severity of traffic accidents in the city over a period of 5 years. The Project has now been taken over by the WHO with Indus Motors in a consulting capacity.
Toyota's Road Traffic Congestion Research Project in collaboration with the NED University of Engineering & Technology which aims to quantify the effects of the environmental impact from traffic flows in Karachi city. Mr. Ghias explained how this Research program reconfirms the importance of dispersing transportation demand and evaluating the true cost of doing business. He concluded that we have to realize that' there cannot be endless consumption', and that 'countries like ours can not afford to live lavishly and not care about the environment'.
Mr. Arif Masud Mirza, Head of ACCA Pakistan, presented the results of a Live Survey conducted during the course of the Conference which showed overall that respondents were in favor of improvement in sustainability transparency by Pakistani businesses. The Conference concluded with a panel discussion and a wrap-up of the day's proceedings by Mr. Mirza.
During the panel discussion Mr. Guenter Zwickl said corporate communications and safety compliance play an extremely important role in an organization. Being a good corporate tax payer is essential to his company.
Mr. Parvez Ghias said compliance and safety in an organization is everybody's responsibility. Indus Motors takes pride in being a good corporate citizen. There needs to be a process of accountability, even within the private sector.
Dr. Tilo Klinner said growth without sustainability is worth nothing in the long run. Pakistan is an energy deficient country. And therefore we need to solve the energy crisis by not only producing more energy, but also conserving that which we have. Regulatory bodies and the judicial system as well as the media must play an equal part in the accountability of businesses.
Mr Masoud Naqvi said Pakistani businesses should see tax as a bigger obligation to society than making philanthropic donations. He stressed the role of NGOs in Pakistan as very important to sustainability. Sustainability is not just an agenda for the MNCs or the consultants. It is vital that all businesses in Pakistan embrace sustainable growth.
According to Syed Asad Ali Shah, the contribution of tax is significant to sustainability of business. The biggest issue in Pakistan is the energy crisis. If we had a sustainable energy policy in place, Pakistan would have fared much better in spite of the energy crisis. He also said the accounting profession in Pakistan has had an immense role to play in developing bottom line strategies, and creating awareness about governance and sustainability issues.
The Conference was highly successful in providing a platform for sustainability reporting awareness and practice in Pakistan.
By Clicking here you will have complete PDF Sliding Files
2023-9-27
2023-9-27
Asia/Karachi
Conference On 'Sustainability Reporting, CSR And Governance'
On Tuesday January 22, 2013 Pakistan Institute of Corporate Governance (PICG) held its annual Conference on Sustainability Reporting, Corporate Social Responsibility and Governance at Pearl Continental Hotel, Karachi. The Conference was sponsored by Lucky Cement and JS Bank and co-sponsored by Attock Refinery Limited and Lotte Pakistan PTA Limited. Mr. Fuad A. Hashimi, President &
Pearl Continental Hotel, Karachi
save event to calendar